EXPANDING FOR OUR FUTURE
Details
An interesting opportunity presented itself to Kells last fall and we decided to go for it! The purchase of a new building, located between our Elementary and High school campuses, will allow us to expand our facilities and open an international residence.
Kells Expansion Plans
Our Awesome New Acquisition
Last fall an interesting opportunity presented itself to Kells. The commercial building beside our elementary school came up for sale. We were not in the market for a building but when presented with an option to buy, we realized that it offered us the possibility to increase our student population. Currently we are at capacity at the high school and there is very little room for expansion in Elementary.
At a meeting with the administration and later with the teaching staff many ideas were brought forward. There was a unanimous agreement that creating a junior high school for grade 7 and 8 would be a good option. The faculty made the case that this would make an ideal transition to high school for elementary students, permitting us to offer a schedule and a flex program tailor made to these grade levels.
The second suggestion was that we create a residence for international students on the second floor. When we brought the plans to our architect, he was very excited about the project and suggested that we build it in 2 phases. As the diagram on page 2 shows, phase 1 would create the junior school on the ground floor and the residence on the upper floor. Since we have now acquired additional land as well as buildings, he suggested that the plan for phase 2 would be to build a large gymnasium.
We have submitted our plans to the city of Montreal for a permit and will not be able to set a date for opening until we have heard from them. As soon as our new building is ready, we plan to invite the Kells community to an open house. In the meantime if you have any questions or suggestions, we would be happy to hear from you.
Irene Woods
Director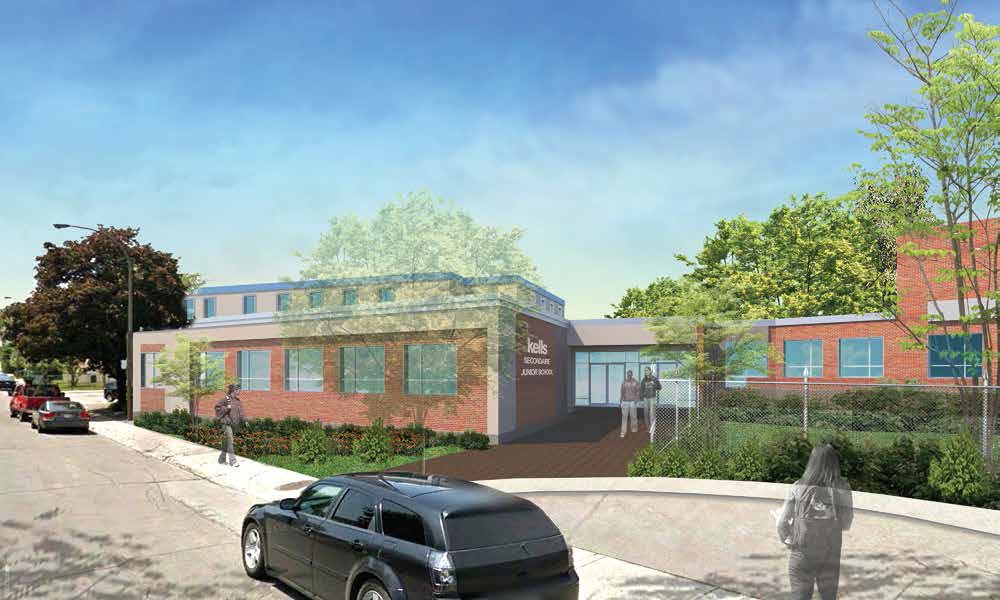 Kells Future International Residence
Kells' residence will offer the great convenience of being on-campus for elementary students and minutes away for our high school. Living at the International Residence will connect students with a community, where they can make lasting friendships, experience the city, and develop a range of academic and life skills. Our residence will not be just a convenient place to live, but an important part of the overall Kells experience. This will be your home away from home. We plan to offer tutorial support and ESL classes. Social events on weekends will include sports, arts, outings, and trips to local events.