Kells Private High School Students Learn About Spanish History and Culture in Barcelona
Kells Private High School Students Learn About Spanish History and Culture in Barcelona
Details
Travelling abroad can offer a range of valuable benefits for high school students, not least of which is the opportunity to develop a global perspective. Travel can also let students try new cuisines, brush up on language skills, and see firsthand some of the important cultural, artistic, and historical works and sites that they have learned about in class.
On March 6th, eighteen Kells Academy students from grades 10 and 11 returned from a whirlwind week-long trip to Barcelona, Spain, where they were able to learn about and experience Spanish culture, take in a range of breathtaking art and architecture, and even pick up some valuable new skills.
Keep reading to learn more about Kells students' recent European excursion.
Las Ramblas and the Gothic Quarter Were Full of Beautiful Sights
Staying in a hotel in the heart of Barcelona, just off the famous Las Ramblas, students were able to explore Barcelona primarily by foot and using the city's extensive metro network.
Las Ramblas is a series of linked streets running through the centre of the city, from the port area on one end to Place Catalunyua (Catalonia Square) at the other. Las Ramblas is home to some of Barcelona's most popular destinations, including the iconic La Boqueria street market and the Liceu Theater opera house, and marks the boundary between El Raval and the Barrio Gótico, or Gothic Quarter.
In Barcelona's Gothic Quarter—built on an ancient Roman village—students had the opportunity to visit the beautiful Barcelona Cathedral, where they took in a breathtaking panoramic view of Barcelona from the roof of the fifteenth-century Gothic-style temple.
Kells private high school students enjoyed the view from the roof of the Barcelona Cathedral
Kells Private High School Students Saw the Famous Sagrada Familia
Kells private high school students were blown away by the Sagrada Familia and Parc Güell, two works from the famous Spanish architect Antoni Gaudi. The Sagrada Familia, a UNESCO World Heritage Site, is one of the most iconic buildings in all of Spain, and has been under construction since 1882 with work continuing to this day.
Students also visited Camp Nou, home of the world-famous Barcelona Football Club, and enjoyed a day-trip to Costa Brava, where they visited some of the local fishing villages dotting the coast, as well as the Salvador Dali Museum to tour its enormous collection of the Spanish surrealist's objects and paintings.
Students Learned a Variety of New Skills on their Trip
During their stay in Spain, Kells English high school students not only got to take in the sights of Barcelona but also had the chance to pick up some valuable new skills to take home with them.
Students learned the traditional dance of Spain with a group Flamenco lesson and tried their hands at pottery in a hands-on class in which they created a glass mosaic souvenir to take home with them. Challenged against each other in a cooking class, students even learned how to make a range of classic Catalonian dishes such as paella, pan con tomate, torta espanol, and crema catalunya.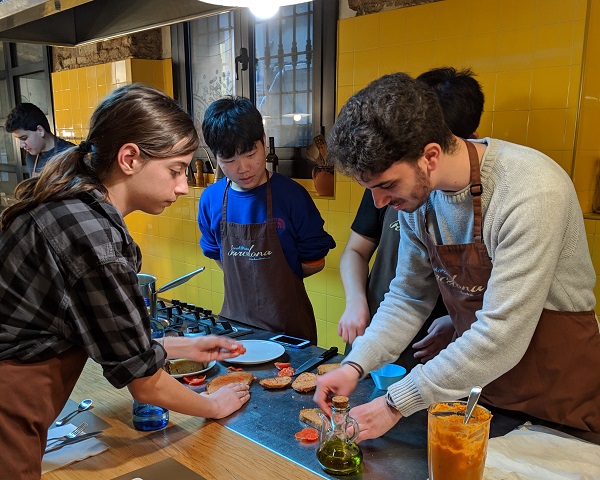 In cooking class, students learned to make a variety of classic Catalonian dishes
With such a full schedule of activities, students could barely stay awake past curfew after returning to the hotel each day! From roman ruins to mouth-watering meals, it was a fantastic trip packed full of art, history, and delicious food, expanding students' knowledge of world cultures and providing them with valuable experiences and skills that will stay with them for years to come.
Are you looking for a high school that offers students access to exciting international opportunities?
Contact Kells Academy for more information about our English academic high school.