How Kells Academy Keeps English Students Engaged with Differentiated Learning
How Kells Academy Keeps English Students Engaged with Differentiated Learning
Details
Middle school is an important transitional period for students. Leaving behind the safety and comfort of the elementary school environment, it's here that they finally begin to develop their independence and autonomy and take a more active role in their learning.
At Kells Academy, we recognize that not every student has the same learning style, however, or works at the same pace. While some may require written materials to understand complex topics, others might do better with a hands-on learning exercise or a visual representation of the information. Ultimately, there are as many ways of learning as there are students, and this diversity of learning styles can make the transition into high school challenging. With Kells Academy's differentiated learning approach, however, it doesn't need to be.
Differentiated Learning Adapts the Lesson to the Student
Differentiated learning is an educational approach that focuses on identifying and catering to the learning differences among students. It's one of the core elements of the Universal Design for Learning (UDL) framework, an educational approach aimed at developing flexible classroom environments that accommodate a variety of learning styles and reduce potential impediments to learning.
At Kells Academy, the first step in the process is to identify a student's skill level, so that they can be matched with a level of instruction that suits their needs. With individualized instruction taking place in classes, Kells teachers are able to give students the personal attention required to match lessons not only to students' skill levels but also to their varied learning styles.
Why Different Learning Styles Call for Different Approaches
All students learn the material in different ways, and there are generally understood to be at least four to eight unique styles of learning. With personalized attention and the use of digital technologies, lessons can be customized and students at Kells Academy can access material in a variety of ways, helping them thrive no matter what their personal learning style might be.
Linguistic learners, for example, prefer to learn through written words. These students are often well-suited to the more standard materials and methods associated with in-class learning, such as reading textbooks and online articles and writing essays. Visual learners, on the other hand, tend to absorb information better when it's presented in a visual way. For these students, handouts, diagrams, and visual presentations are most effective, and concepts are most easily understood when they can be represented through spatial relationships. Students might also vary in their preference for individual or group instruction, the pace of learning that best suits them, and many other factors. This is why differentiated learning is so important, as it allows students at Kells English middle school to engage with the material and present what they've learned in the way that works best for them.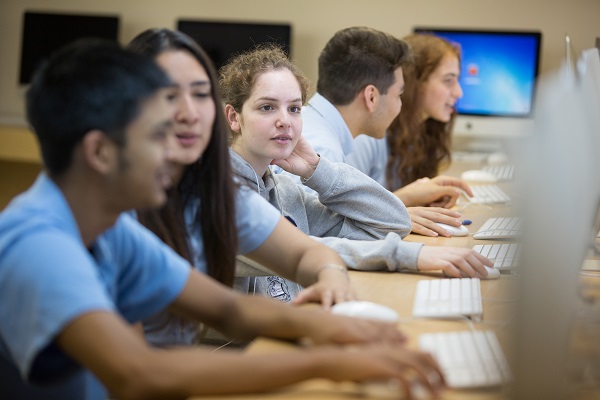 At Kells Academy, lessons are adjusted to suit the needs of the individual
Kells Middle School Students Use Technology to Customize their Learning
Today's middle school students are avid users of technology. At Kells Academy, we take full advantage of this fact, integrating technology throughout every aspect of the curriculum in order to make course materials as accessible as possible and to empower students by giving them an active role in the learning process.
Students at Kells Academy benefit from laptops and iPads in their classrooms, a well-equipped computer lab, laptop carts, and SmartBoards. This technology allows students to take a multimedia approach to learning, so that no matter what their learning style, they can engage with the curriculum in a way that suits their needs and strengths, whether that means augmenting information through videos, graphic presentations, sound files or more.
By placing students at the center of the educational experience and providing them with the tools to engage with subjects on their own terms, Kells English middle school students stay engaged and active in their education, benefiting from the flexibility and individualization of the UDL framework and the differentiated learning approach.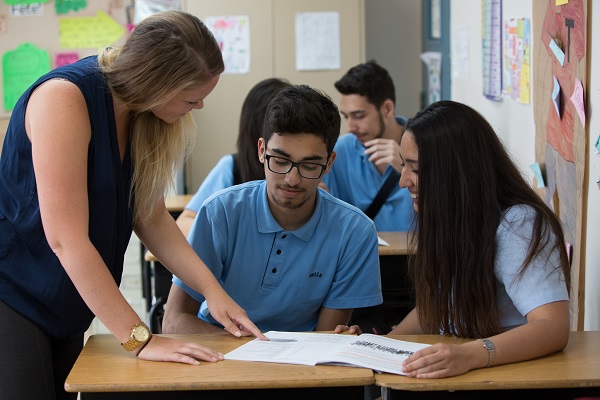 Differentiated learning means customizing lessons and giving each student individual attention
Are you interested in enrolling your child in a school that uses differentiated learning to help students succeed?
Contact Kells Academy today for more information about our independent middle school.