Understanding Our Academic School: The Essence of Kells is in These 4 Ds
Understanding Our Academic School: The Essence of Kells is in These 4 Ds
Details
Every student learns differently, and establishing a strong educational foundation is a decisive stage in any child's development. At Kells Academy, there is no one-size-fits-all approach to our teaching. We believe that each student offers their own unique perspectives, experiences, and interests which should be encouraged to ensure future success, and we work to cultivate a meaningful and innovative learning environment for our students.
We want students to work within their comfort zones while also feeling confident and supported enough to grow as individuals, and we adhere to a high standard of values to see that their needs are met. With our personalized curriculum, international community representation, and a focus on independence, we are looking forward firmly, and with purpose.
This is perhaps best broken down into what we like to call the '4 Ds' of education at Kells: Differentiation, Diversity, Digital Learning, and Direction. Continue reading to learn more about these core values and beliefs which inspire our passion for excellent, extraordinary education.

Differentiation Provides Outstanding Individual Growth
Here at Kells, we believe that each student must be supported as an individual in order to succeed, and our learning program reflects that. We provide all of our students with an education that is tailored and specialized to their needs and learning comfort. Our learning programs help students to engage with their curriculum, allowing them to have a well-rounded learning experience that builds and nurtures their unique talents.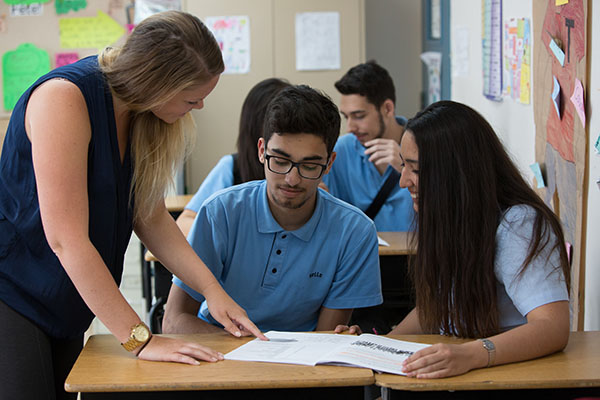 Individualized learning experience
We aim to prepare students to achieve their goals, one child at a time, and this also includes emphasis on extracurricular activities. Our Flex program is a unique approach to personalized education which encourages students to pursue their individual interests outside of the classroom. The program provides for a variety of niche subjects across many disciplines, from dance and cinema to robotics and chess. Our aim is to break down the barriers to learning, and this begins by seeing the value in each and every student and the unique perspectives they bring to our academic school .
Diversity Enriches Community and Experiences at Academic School
Due to Kells Academy's unique appeal, we attract students from all over the world, and our student body represents over 35 diverse cultures and countries. Multiculturalism is an important feature of the Kells community, and we believe that when students engage in new perspectives, backgrounds, and cultures, their worldview and learning experiences grow exponentially, enriching their personal development.
Although our classes are taught primarily in English, we understand that English proficiency may vary for our international students. In order to integrate students into our Language Arts classes, we offer a comprehensive English Language Learner (ELL) program, as well as additional English as a Second Language (ESL) courses and even ESL Summer Camp for students who want to get a head-start.
Students Have Personalized Digital Learning Options
In order to properly prepare for the future, Kells Academy is fully invested in advancing technological integration, and all of our high school classrooms are equipped with a variety of technologies, from PC and Mac laptops to SmartBoards and iPads. Additionally, iPad programs are offered to students in Grades 7-10.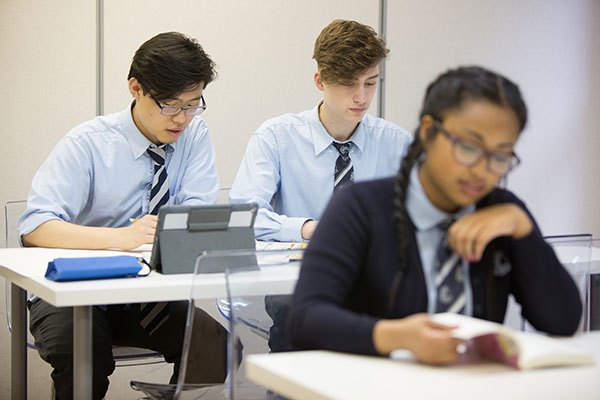 The use of technology is an important feature of our classrooms
We believe that the use of the latest technology gives students an important tool to engage with their curriculum, as well as the flexibility they need to organize and review their classroom materials. Digital technologies enhance and enrich the academic experience, and are an important aspect of giving students the personalized education they require to thrive in an English academic high school setting.
Direction Paves the Way Forward
At Kells, we want to guarantee that all students will be successful in their endeavours. We strive to ensure that everything, from our classrooms to our certified educators to extracurricular activities, lays a solid foundation for students to build upon as they grow. Structure is an important aspect to future success, and gives students the ability to focus on cultivating the unique skills and talents which will benefit them in later years.
Due to our emphasis on providing a strong sense of direction for our students, we offer one-on-one meetings with guidance counselors to help students with their college admissions. In fact, many Kells alumni are accepted into their first choice college or university. Upon graduation, they leave behind an experience that has given them lasting friendships, amazing teachers, and support from a community more like a family than just a classroom.
Are you looking for the right English high school for your child?
Discover how Kells Academy can prepare them for success.