An Authentic Quebec Experience for our English Academic School
An Authentic Quebec Experience for our English Academic School
Details
At Kells Academy, we work hard to provide extraordinary opportunities for students to learn through hands-on activities and field trips. To mark the "sugaring off" season this spring, we visited Sucrerie de la Montagne, located on top of Mont Rigaud. The day was filled with opportunities to learn more about local history and authentic French Canadian culture.
All of our students were able to engage in Quebec traditions, while learning about the process of creating real maple syrup. A delicious "sugaring off" meal, music and dancing, as well as a horse-drawn wagon ride rounded out the day. The sugar shack's commitment to preserving the customs and history of the property allowed us to explore a time long ago in Canada's past.
Read on to see what adventures the cabane à sucre had in store for us!
A Part of Quebec's History
Sucrerie de la Montagne is a designated Official Quebec Heritage Site located in a 120-acre maple forest, which allows visitors to take a peek at life during pioneer times. Starting as a single clapboard shack, the Sucrerie de la Montagne has been preserved in order to take visitors' imaginations on a journey back in time, with an appreciation for what Quebec has to offer.
Students were encouraged to expand their horizons by trying new activities, including a horse-drawn wagon ride, which gave them a rare chance to feel what it was like to travel without cars or buses. Our elementary school students also tasted tire d'érable, a classic Quebec treat created by pouring hot maple syrup on the snow and cooling it into a delicious taffy.
Kells Private Elementary School Students Saw How Maple Syrup is Made
Our students enjoyed a guided tour of the cabane à sucre, where they learned more about the process of producing maple syrup. They were able to see where the maple trees are tapped with spouts to draw out the sap, which is then collected into pails. Next, they were taken through the maple-syrup making facilities, where a traditional wood-fired evaporator is used to transform the liquid into maple syrup.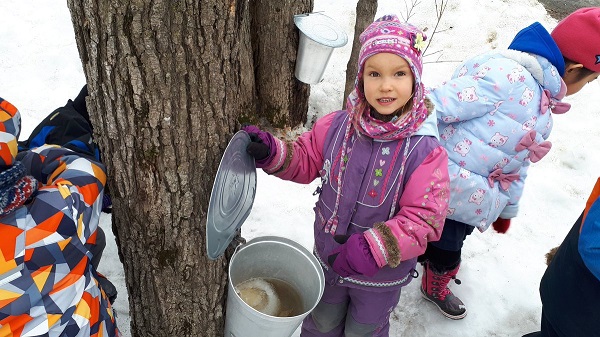 At Sucrerie de la Montagne, sap is collected from trees using spouts and pails
As a part of Kells Academy's commitment to providing a well-rounded experience full of appreciation for all cultures, this was an educational tour that helped our students understand more about this iconic Canadian food. Our students were curious about the production of the syrup and enjoyed seeing all of the steps required to take the product from tree to table.
A Traditional "Sugaring Off" Meal for our Elementary School Students
No day at a cabane à sucre would be complete without a traditional "sugaring off" meal. We were treated to a delicious meal including farm-style crusty bread, wood-fired baked beans, farm-style omelette soufflé, old-style mashed potatoes, and golden pancakes with syrup.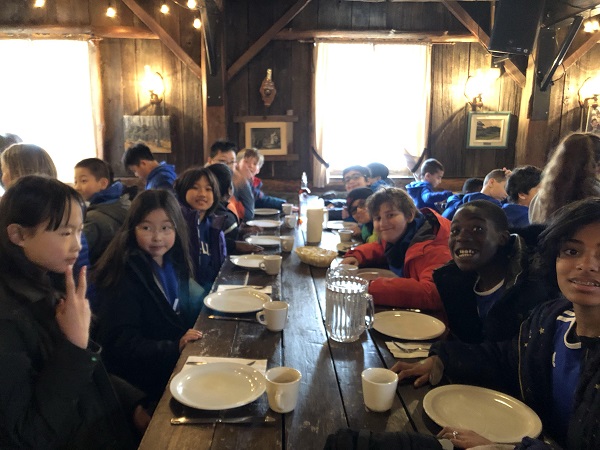 Kells students were treated to a traditional "sugaring off" feast
After all of that sugar, our students had some energy to burn. Our English academic school loves to explore and appreciate different customs, which during this trip included music and dancing! Our students were lucky enough to enjoy some Quebec folk music and traditional folk dancing at the sugar shack, getting their bodies moving and celebrating spring in an authentic Quebecois fashion.
Are you looking for a school that provides a variety of experiences for a well-rounded education?
Contact Kells Academy for more information about our private elementary school.