From Bioplastics to Tsunami Defence: How our English Middle & High School Students Got Creative at the Kells 2019 Science Fair
From Bioplastics to Tsunami Defence: How our English Middle & High School Students Got Creative at the Kells 2019 Science Fair
Details
Each year, our science fair gives students a chance to flex their creative muscles and curious minds by planning, designing, and presenting their unique projects and experiments. Kells Academy focuses on cultivating the interests of our students in the subjects they're passionate about and participating in a science fair allows them to get up close and personal with their projects, and provides our community with an opportunity to come together to celebrate their innovative, original creations.
This year's experiments covered a wide range of topics, from how Coke affects our teeth to edible water bottles and smart fire detectors to air pollution's impact on our water. Our students brought their passion and their science smarts to the forefront and impressed everyone with their boundless creativity. If you're interested in learning more about what makes our scientific superstars and their creations so special read on to find out what this year's science fair had in store for the Kells community.
Kells Grade 7 and 8 Students Introduced Unique Ideas at Our Science Fair
One of Kells' primary goals is to encourage a lifelong love of learning in our students both inside and outside of the classroom, and that begins with finding and exploring the things they are passionate about as individuals.
Our Grade 7 students Sunny and Amy examined soda's sugar content, while Malek reported his findings of air pollution and its effects on water, as well as whether our tap water is actually as safe as we think it is. Nir presented a design project on the Archimedes Pump, which was used to transfer milk uphill to his cereal bowl.
In Grade 8, Ethan and Fares monitored the effect that Coke has on teeth, while Logan and William tested a new defense system against tsunamis. We feel truly lucky to witness the unique ideas and innovations of our academic middle school students!
Our Grade 9 Students Put Their Scientific Hypotheses to the Test
This year, our Grade 9 students asked questions, following in the great Kells tradition of letting our curiosity lead us to new and exciting places. Inquiring minds like Rafael wanted to know "what's the deal with pinholes?" Zane questioned, "Which type of insulation is better?" Alp asked, "what liquid evaporates first?" Yosef tested how the amount of air affects the distance a soccer ball can travel, and Meem taught us how to create bioplastic from cornstarch.
Our seniors went further and beyond. From designing the EMF-friendly laptop to creating an app for social awkwardness, projects ranged from designing microbial fuel cells to designing smart fire detectors and cleaning drinking water using corn cobs.
Our English high school students' dedication to the scientific method was evident at this year's science fair! We love to see Kells students using their personal passion to make their projects go above and beyond our expectations.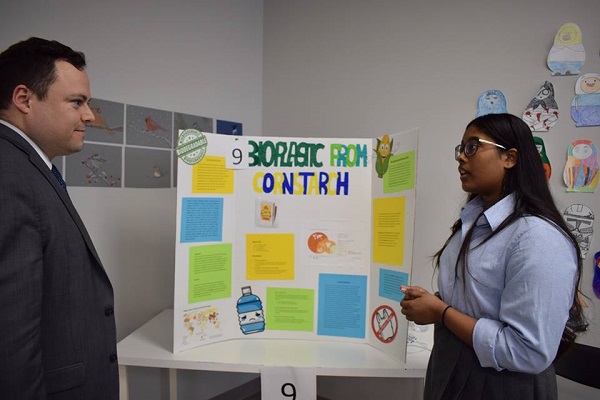 Kells encourages our students to follow their curiosity and express themselves creatively
Kells' English High School Students Brought Experience to their Experiments
Some of our older students already had a head start in this year's science fair, as the 2nd place winners in last year's intermediate category, Amine and Omar followed up their "Plastic Milk" project with an exploration into an EMF-friendly laptop. Salman introduced app design with "Socializing Applied" and Austin proposed a "Squishy Hard" football helmet, while Kevin And Ariel examined how to clean wastewater with corn cobs.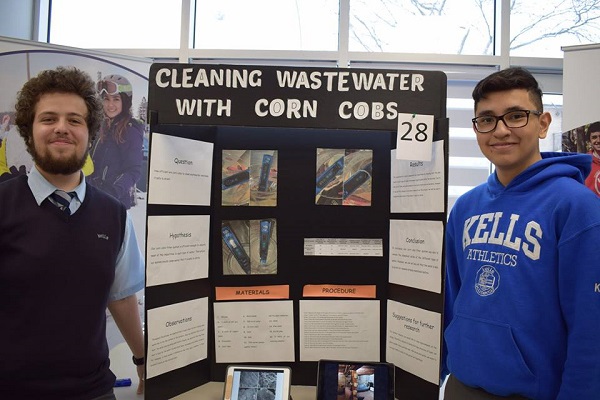 Kells students put their minds on display with their impressive and innovative scientific creations
Our students are at the heart of the Kells community, and this year's science fair was a success due to their hard work and the fact that they weren't afraid to try new things, explore new ideas, and share their findings with us. We can't wait to see what next year has in store!
Are you interested in giving your child the opportunity to grow to their true potential?
Contact Kells Academy for more information about our private English school.