The Invention Convention at Our Private Elementary School
The Invention Convention at Our Private Elementary School
Details
On December 7th, Kells Academy hosted our annual Invention Convention, which gives our students a chance to explore the more creative side of their educational curriculum. We aim to help students build connections between themselves and what they learn in and out of the classroom, and one of the best ways to do that is to encourage their pursuit of innovative thinking and problem-solving.
From designing a new play house with a candy cane theme to learning about the responsibilities of construction site safety, our students took this valuable opportunity to build their sense of creativity and innovation. If you're interested in enriching your child's education at Kells, read on to find out more about our special event that had students thinking outside the box.
Building a Brighter Future Starts with Our Elementary Students
The cultivation of creativity and innovation sets a strong foundation for our students' lifelong passion for learning. In order to take those first steps into a bright future, it's important to introduce them to new ideas, concepts and perspectives that encourage their confidence, curiosity and individual interests in what they learn.
One of the primary purposes of our Invention Convention is to promote the deeper exploration of the subjects our students are passionate about. By introducing interactive events and activities at our English elementary school, students have the opportunity to engage with their lessons at a crucial stage in their development. This gives them early access to valuable resources and tools which help provide a strong framework to build their skills throughout their life.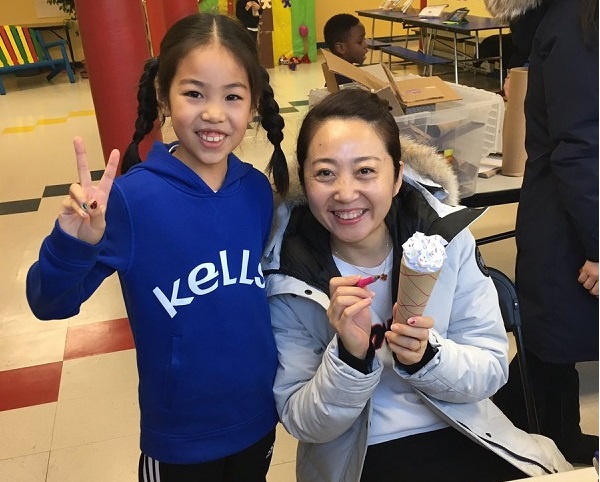 Kells encourages students to pursue innovation through hands-on activities
Creative Inventions Have Students at Kells Thinking Outside the Box
Kells takes pride in the unique talents, skills and personalities of our students, and we aim to build upon and strengthen these special capabilities in a variety of areas, from academics to athletics to extracurriculars. This includes the creative projects and activities they participated in during the Invention Convention, which brought our students' skills to the forefront.
From snow-melting boots to remote control tables, and space modules to brushes for multi-coloured painting, our English elementary school students expressed their individual creativity and interests, and personally engaged with innovation at a hands-on level. Our K-2 students kicked off the event by listening to Christy Hale's "Dreaming Up: A Celebration of Building," and participated in a brainstorming activity for a "Candy House."
Mr. Habash, the parent of one of our students, then explained his roles and responsibilities on a construction site, and students worked to create a blueprint and delegate the different tasks involved in building a structure. We were also visited by Rym Baouendi, director of Medina Works, who supervised the building project and helped students plan and build their Candy House. Additionally, the K-2 parents were invited to participate in a "Pop Up Invention Station," where they could lead by example and get involved with their children in creative innovation.
At the Invention Convention, students got up close and personal with their creative inventions
Inspiring Innovation at Our English Elementary School
Innovation is the application of creativity to develop something entirely unique and useful. One of the best ways to inspire innovation in young students is to lead by example, and Kells uses our Invention Convention to get students involved in a more meaningful capacity than what they learn in the classroom.
Since creativity is at the heart of innovation, we seek to inspire our students' sense of imagination, as well as how they approach certain tasks or challenges. The Invention Convention is a unique educational event that gets children thinking creatively about what they learn in class, and discovering the subjects they are passionate about plays an important role in how they view their own confidence in their capabilities.
Are you interested in giving your child the opportunity to become a creative innovator?
Contact Kells Academy for more information about our English private school.