The Benefits of a Pre-University Program at Kells Academy
The Benefits of a Pre-University Program at Kells Academy
Details
The transition from secondary school to university is a critical time in any young person's education. As they prepare to take a more active role in their learning, they should have the freedom and support to explore new interests and cultivate a sense of independence, while still developing the knowledge and skills they need to excel in their postsecondary studies. Kells Academy's Grade 12 program is designed to help students successfully navigate this important transitional period. We offer an online program delivered through a tutorial approach in a classroom setting. The combination of a high level of support, and access to all program materials online leave students better prepared for admission to top universities.
A Choice of Academic Streams Lets Students Begin Specializing for University
At Kells Academy, students can choose between three distinct academic streams: Science and Engineering for those interested in the STEM subjects, Commerce for those who hope to study business or finance, and Liberal Arts for anyone interested in journalism, politics, the arts or other related disciplines.
This allows students to adapt their curriculum to their own personal interests and ambitions and begin specializing in their university studies. Whether their future plans might include a degree in Mathematics, Classics, Business Management or any other subject, students can ensure they have the prerequisites necessary for admission, and the specific skills and knowledge they'll need to excel in their major.
Individualized Learning Benefit Students
Our educational philosophy give students more opportunities to participate and receive feedback, and they also provide a focused and community-oriented environment for learning. In the pre-university program at Kells Academy, we enable instructors to give students greater personal attention, tailoring lessons to students' individual needs, abilities, and learning preferences, and ensuring that each one receives the support necessary to advance and thrive in their studies.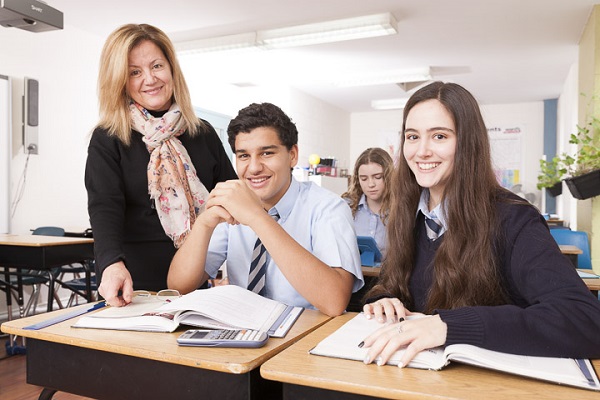 Our teachers give each student personal attention and support
Kells Academy's Pre-University Program Teaches Students Important Digital Skills
Technology is evolving at a rapid pace, and it's important for students to keep up with the latest developments in order for them to succeed at university and beyond. This is one of the reasons why, in Kells Academy's pre-university course, technology plays a central role in students' learning.
A virtual platform allows students to access course content, lesson materials, and assignments. These are available in advance, allowing highly motivated students to progress at their own pace, beyond the pace set by classroom instruction. For those who require additional support, online tutoring is available to help guide them through challenging course content. Daily after-school remediation is also available for students who require subject-specific assistance or help with exam preparation.
Digital technologies play a pivotal role in Kells Academy classrooms
A One-Year Academic Program That Prepares Students for University
After graduation from our program, students receive an Ontario Secondary Schools Diploma (OSSD), making them eligible to apply to universities all across North America and Europe, including schools in Québec. This means that students eager to begin their university education can do so a full year sooner than if they wait to complete a standard two-year CÉGEP program, with a high school certification that is recognized at universities all over the world.
As students complete their year of enriching academics and extra-curricular activities, Kells Academy also offers them guidance in choosing a suitable university program, as well as assistance with the application process and letters of recommendation, giving them the perfect start to their postsecondary career.
Are you looking for a pre-university program at an English school in Montreal for your child?
Find out more at our upcoming Open House in October 2021 at our high school building (6865 De Maisonneuve West).