Why Technology is so Essential to Private Schools for the World of Tomorrow
Why Technology is so Essential to Private Schools for the World of Tomorrow
Details
At Kells Academy, technology is an essential part of our classrooms. Students each have access to an iPad, which they use to receive assignments, ask questions, collaborate with their classmates, and so much more. Along with Smartboards and iPads, teachers use a wealth of online applications like Pear Deck for interactive presentations, Go Formative for real time assessment and feedback, and Google Apps for Education which allows students and teachers to seamlessly share information, write notes, and work together.
We also know that an important part of using technology in the classroom is staying up to date with the latest changes. Technology is evolving and developing in new ways all the time, which is why Kells teachers participate in a continuous technology-training program. Our latest professional development focused on video creation to facilitate flipped classrooms which enable students to preview lesson content through a personalized video. This allows for maximum interaction between teachers and students during class time in order to provide support and feedback towards lessons and concepts.
Why make technology such an important part of education? Here are just some of the many essential benefits this approach offers.
Technology Helps Keep Students Engaged in Course Material
By employing technology in the classroom, teachers turn lessons into interactive experiences where students can engage with material right on their iPad. Technology offers access to all students by removing barriers to learning.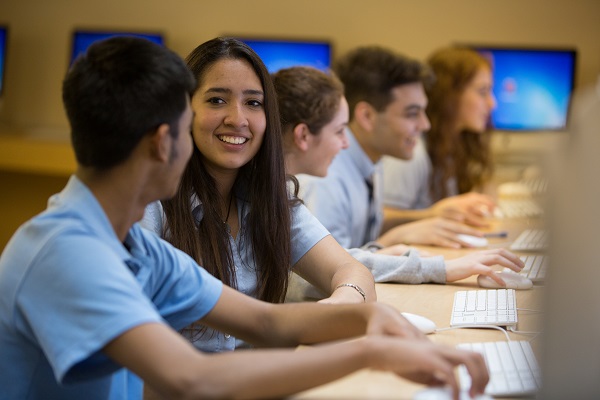 Technology gets students excited about learning
Visual learners can access stimulating diagrams, while tactile learners can manipulate material – empowering students to learn in the manner that best suits their needs while showing them just how much fun learning can be. Studies have shown that one of the most important contributing factors to academic success is student engagement. By strategically using technology within the classroom, teachers at our private school help to motivate students, driving academic interest.
Technology Helps Promote Collaboration and Other Life Skills
Online resources such as Google Apps for Education make it easier than ever for students to collaborate on projects, share ideas, and work together to solve problems. They can complete assignments as a team, each contributing to the same file, or even showing their work to others within the class for real-time feedback. Technology can also help boost communication, as students use chat forums and email to ask questions, offer commentary, and share their ideas.
As a result, students at our English school develop valuable teamwork skills. They learn to respect the ideas and contributions of their peers and gain confidence in their ability to offer valuable contributions to projects.
Preparing the Next Generation for the World of Tomorrow
Preparing students for the next step in their education, as well as for the next step after that, is essential. However, how can we prepare students for our ever-changing world?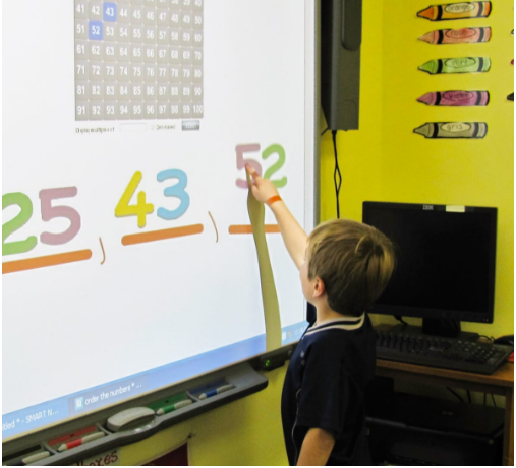 For digital natives, comfort with new technology is important
Already, technologies that were mainstays of academia and business just a few short decades ago have now become all but obsolete. Fortunately, employing technology in the classroom is about so much more than helping kids to use current devices and systems. By gaining exposure to many different kinds of technology at an early age, children will be more prepared and comfortable adapting to any new technological advancements that the future may bring.
Critical thinking, problem-solving skills, and creativity are also all promoted through the use of technology. Students become active participants in solving problems, working together, and engaging with lessons. These skills are among the most valued by higher education institutions and employers alike – partly because they help students meet whatever new challenges or changes they may face. Whether learning to use a new software program or brainstorming an innovative new solution, students can draw on their early experience with technology to reach their goals.
Are you looking for an English private school for your child or teen?
Discover how Kells Academy helps bright young minds thrive in today's digital world.